Upcoming Exhibition

Mark Dean Veca: Ornamental Illness
May 7th through May 29th, 2022
San Francisco Heritage's Pop-Up Gallery
1506 Haight Street near Ashbury Street
San Francisco
Exhibition Schedule: May 7th - May 29th, 2022
Wednesday-Sunday, 12-6 pm
Opening Reception: Saturday, May 7th, 5-8 pm
Conversation with the artist and curator Renny Pritikin: Saturday, May 14th, 3-4 pm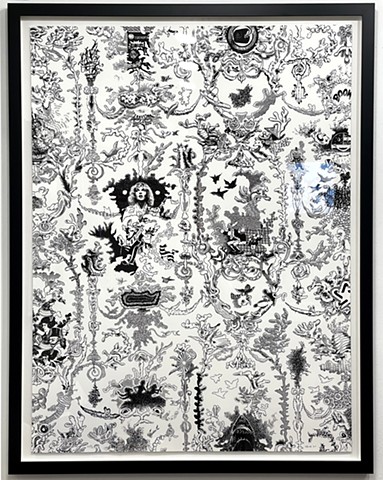 Mark Dean Veca, 76, 2022
One-color screen print on Coventry rag vellum 320gsm, 53 x 39.5", edition of 10

San Francisco Heritage is pleased to present Mark Dean Veca: Ornamental Illness opening May 7th, 2022, and on view through May 29th, 2022 at San Francisco Heritage's Pop-Up Gallery located at 1506 Haight Street, near the corner of Haight and Ashbury Streets. The artist will be present at the opening reception.
Known for creating paintings, drawings and installations of surreal cartoons, psychedelic landscapes, and pop culture iconography, Los Angeles artist Mark Dean Veca has created a new suite of screen printed editions during a residency at The Space Program in San Francisco late last year.
The editions commemorate the 20th anniversary of a seminal series of drawings that take as their structure the ubiquitous Toile de Jouy patterns embraced by Marie Antoinette and Martha Stewart alike. Veca subverts the conservative elegance of these patterns, typically populated by pastoral, historical, or mythological scenes, by inserting a more "vulgar" lexicon of appropriated motifs from a wide variety of sources including underground comix, erotica, and advertising. These found images are connected by an intricate network of improvisational biomorphic cartoon abstraction finely rendered in a line under the influence of Underground Comix, psychedelic poster art, Mad Magazine, and Dr. Seuss. At a distance the works read as exquisitely refined as their forebears, luring the unsuspecting viewer into a world that rebels against the tyranny of the "tasteful". Art critic Carlo McCormick writes:
"Impossibly ornate, decorative in ways that are as much disorienting as dissociative, Veca superimposes his disembodied pop elements upon the frilly and irrevocably feminized spacelessness of Toile de Jouy, an 18th Century textile pattern marked most notably by its capacity for seamless repetition and highly detailed complexity. Pattern and decoration -- among the most maligned attributes that have become pretty much taboo in contemporary art practice -- serve Veca well. Drawing from the same instincts that propel his most ambitious public art installations, the wry appropriation of the unapologetically decorative is this artist's way of producing paintings as if they were wallpaper: a hitch like a programmed glitch in the high commodity that fine art represents; the ghost of the unoriginal whispering again that caveat emptor; the equation by which he can make the dichotomy of the truth in the lie compatible yet irresolvable."
Concurrent with the exhibition, Mark Dean Veca will be an Artist-in-Residence at San Francisco Heritage's Doolan-Larson Building, making new drawings and paintings inspired by the Haight-Ashbury neighborhood's past and present.
Born in 1963, in Shreveport, Louisiana, and raised in Livermore, California, Veca studied at the Otis Art Institute in Los Angeles. He has exhibited throughout the United States, Europe and Japan at institutions such as the San Jose Museum of Art, The Orange County Museum of Art, MoMA PS 1, The Brooklyn Museum of Art, The Crocker Art Museum, The Drawing Center, The Los Angeles County Museum of Art, Haight Street Art Center and the Yerba Buena Center for the Arts.
Veca's public artwork Miracle of La Brea, commissioned by LA Metro for a station at Wilshire and La Brea in Los Angeles, will open in 2024. Amongst his many honors, he was awarded the John S. Knudsen Prize in 2018, the C.O.L.A Individual Artist Fellowship in 2011, named Honoree of the Jennifer Howard Coleman Distinguished Lectureship and Residency at Otis College of Art and Design in 2008, received a Pollock-Krasner Foundation Grant in 2006, and has thrice received the New York Foundation for the Arts Fellowship in painting.
"We are honored to be hosting Mark Dean Veca as part of our new Artist-in-Residence program, which invites artists and activists to take inspiration from our mission—to preserve and enhance San Francisco's unique architectural and cultural identity—during a residency at Haight and Ashbury with its echoes of the counterculture," said Karalyn Monteil, President & CEO of San Francisco Heritage. "We are especially looking forward to his exhibition and artist talk with curator Renny Pritikin in our pop-up gallery space at 1506 Haight Street," she added.
For more information, please contact Kerri Young, Communications & Programs Manager at San Francisco Heritage, kyoung@sfheritage.org.